Yuri Elik
video artist, vj and photographer
---
CONTACT WITH MICRO WORLD
installation by Group 2012.
23.09-22-10.2005, Botanical Museum, St.Petersburg, Russia.
People were always attracted to unknown, to the limits of knowledge – to highest and to deepest, to fastest, to biggest and to smallest. Charmed by the pictures under the microscope, we also felt the desire to dive deeper to the micro world, to investigate it, but with artistic, not scientific purpose. That led to the idea of installation first presented in 2005 in the Botanical Museum in St.Petersburg, Russia as a part of "Contemporary art in traditional museum" Annual Festival organized by PRO ARTE Institute.
Contact with Micro World is an interactive multimedia installation showing processed microscopic images of plants projected on one or several screens. Each projector is connected to PC computer that serves as a source of images. All computers are controlled with a single MIDI keyboard. Thus visitors playing the keyboard control the images on screens and sounds (that were created specially for this installation) going through the sound system. The installation creates its own multimedia space with the help of custom lights, projections of slides hand-made for the installation using plant materials and floral decorations. Images used in installation were made from microphotographs made by scientists working in Botanical Institute and Museum, as well as by authors. They were digitized, colored, warped and animated in computer.
Botanical Museum was a perfect stage for the installation. For botanical science, research of the micro world is a common method of work, and images prepared by group 2012 became organic part of the museum exposition. Our aim was to to give visitors a new look at the dry scientific images, to pick them out of traditional museum context, to make it possible to play with them.
Visitors saw three screens, arranged in a semicircular facion, displaying moving and morphing images of microscopic plant structures, accompanied by ambient music. On the other side installation space was surrounded by museum displays that were reflecting the screens. In the center there was MIDI keyboard, and visitors were encouraged to play it, thus controlling images and sounds.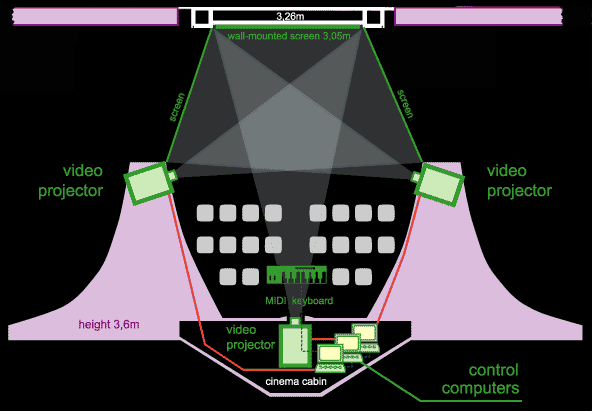 IIIrd floor of the museum, where installation was happening, was darkened, displays were lighted, and some of exhibits were highlighted with special hand-made rotating slides. Stairway leading to the IIIrd floor was decorated by screens displaying slides which were specially prepared for installation using plant materials.

IInd floor of the museum held microphotographs exhibition. Most of the original images were black-and-white electronic microscope images. For the exhibition they were edited and colorized using computer. Some images were wood preparations that were photographed through optical microscope using dark field or polarized light techniques, and subsequently also computer processed.
Our big gratitudes for staff and researchers of V.L.Komarov Botanical Institute of Russian Academy of Sciences for help and support.
Special thanks to:
Sacharias Jansen (Netherlands), spectacle-maker who created first known microscope around 1595.
Robert Hooke (England), who dicovered, with the help of microscope, cell structure of plants in 1665.
William Henry Fox Talbot (England), photography pioneer and inventor of negative process, who made first photographs of plants around 1835.
Project was done with support of Ford Foundation and PRO ARTE Institute
Group 2012
Multimedia installation "Contact with Micro World" was prepared by Yuri and Elena Elik, Sergej Tsarev, Anna Pervozvanskaja, Gosha Solntsev and Igor Potsukajlo. Out thanks to Ekaterina Kotina, Lina Golovneva, Aleksander Kuzmin, Lika Zheleznak, BARDOSENETICCUBE, d.n.k. design lab., KB Svetosila and all who helped us to realize this project.
Links
ZAART magazine
d.n.k. design lab
www.museum.ru
Botanical Museum
---
| INFORMATION | NEWS | ÈÍÔÎÐÌÀÖÈß | ÍÎÂÎÑÒÈ | ÊÎÌÌÅÐ×ÅÑÊÀß ÐÀÁÎÒÀ |