Yuri Elik
video artist, vj and photographer
---
17.09 - 13.10.2010
Russian tour of 23 Windows artists (NYC, USA)
Our collaboration with musicians ad video artists from Brooklyn, New York City, started in 2005 with the joint project of multimedia groups Amoeba Technology (USA) and 2012 (SPb) at SKIF9 (Russia) and Diverse Universe (Finland) fesstivals, and visit of Group 2012 to the Habitats festival that was organized by Amoeba in NYC in 2006. Dok Gregory from Amoeba Technology is working in 23 Windows studio in Brooklyn, and the same space accomodates Aaron Taylor Kufner (Zemi17) and Peter Principle who, naturally, joined the process. Since that Russian and American artists regularily visit each other. This time they bring the following projects: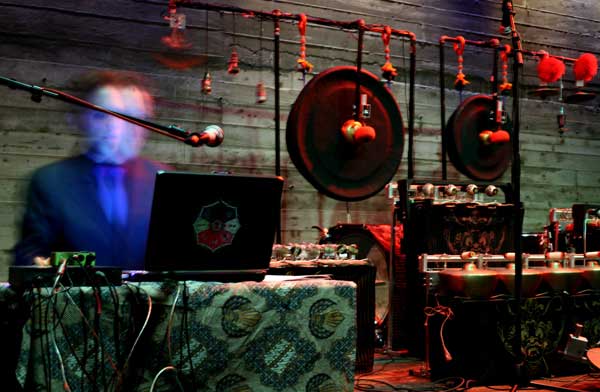 the world's first fully robotic Indonesian Gamelan Orchestra. The Gamelatron is the fruit of a collaboration between The League of Electronic Musical Urban Robots (LEMUR) and the composer Zemi17: A. Taylor Kuffner that brings together traditional ethnic music and modern computer technologies. Gamelatron is traditional Indonesian Gamelan Orchestra augumented with 117 robotic striking mechanisms that are controlled by computer. Thanks to that, orchestra that is usually played by 12-15 musicians, can be controlled by one, or even play autonomously, like pianola, playing pre-composed music. Gamelatron plays both traditional Balinese music (that at one time strongly influenced the birth of minimalism) and ultra-modern electronic and even techno music.
More info, photos, sound and video at
http://gamelatron.com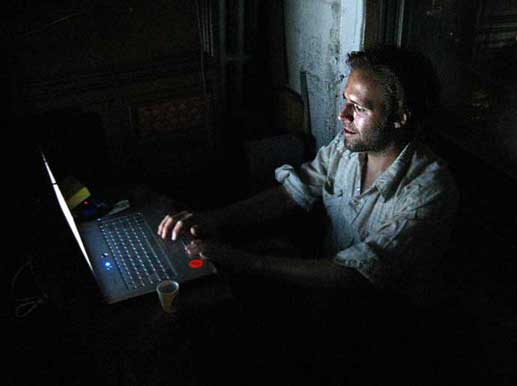 or the person known as Aaron Taylor Kuffner, is a composer, musician, and media artist. Practiced music and multimedia arts since 90ies in New Orlean, San Francisco, New York and Berlin. From 2004 through 2006, he lived and worked in Indonesia, where he collected extensive field recordings of nature and researched classic gamelan music, performing with professional groups in Yogyakarta and Bali. His study focused on two archaic forms of gamelan: Sekatan from the courts of Central Java and Selonding from the Bali Highlands. For the last four years Kuffner has concentrated on synthesizing his knowledge and experience with new compositional and technological forms. He is the co-creator, composer and art director of the Gamelatron: the world's first and only fully robotic gamelan orchestra. He regularly composes for dance, theater and multi-media productions, owns and operates a 15kw sound system and performs with the experimental music groups Zero Gravity Thinkers and The Akashic Currency Bureau (ACB).
http://zemi17.net/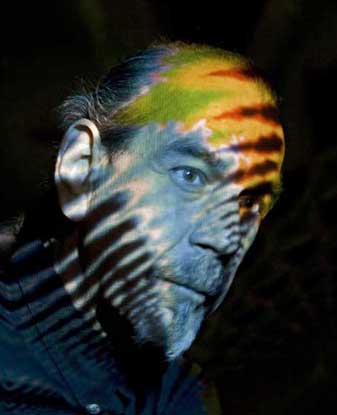 Best known for his 30+ year association with the pan-national multi-disciplined performance music group Tuxedomoon (extensively described in the 2008 book "Music For Vagabonds" by Isabelle Corbisier), he has composed, played on, recorded or produced 100s of published works within a wide spectrum of alternative music fields. His work has been featured in productions by Maurice Bejart and films by Wim Wenders, and resulted in his appearing with Jean Michel Basquiat in the Andy Warhol produced film "Downtown 81". Besides a number of critically acclaimed solo albums, he has coproduced art videos which have played from the Kitchen in NY to the Rijksarchive in Amsterdam. He has perfomed in venues across the spectrum from the Pompidou Centre in Paris to the Issue Project Room in Brooklyn. At this tour Peter will present musique concrete composition named "Why I Stopped Watching Television".
http://www.myspace.com/tuxedomoon
http://www.myspace.com/zgtradioprojekt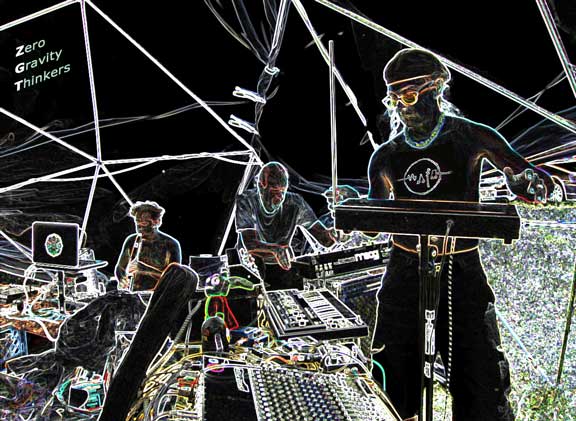 is an ongoing collaboration of Peter Principle - prepared guitar, bass, synthesizer, Dok Gregory - theremin, synthesizer, sampler, Zemi 17 midi sax/sampler, synthesizer, saxophone. ZGT has created sound installations, music for dance and multimedia performances and soundtracks among their many recording projects and live sets. They have performed in locations as diverse as The Brooklyn Bridge, on Governors Island and along the East River as well as event spaces like the Issue Project Room, Chelsea Art Museum, Midway and Galapagos. For these fall 2010 performances ZGT will be presenting audio visual improvisations and compositions featuring Russian VJ Yuri Elik. Generating waves of improvisation exploring atmospheric sonic spaces and the limits of their chosen instruments of expression, ZGT is striving always towards a tangible transcendent experience through sound. Their music has been described as both strangely transportive and deeply psychedelic.
http://www.myspace.com/zgtradioprojekt
Silence Corporation (USA/Russia)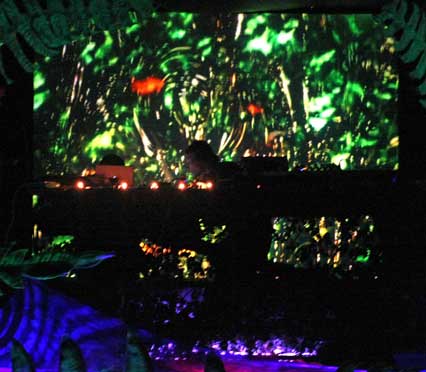 improvisational electronic multimedia international project, collaboration of Aposition Creative Union and Group 2012 artists, on the one hand, and 23 Windows and Amoeba Technology (USA) artists on the other. This time it will consist of Dok Gregory (USA) - steel guitar, theremin, effects, Zemi17 (USA) - midi sax, Peter Principle (USA) - guitar, bass, effects, Pavel Mikheev (Russia) - guitar, Yuri Elik (Russia) - video, Aleksej Pljusnin (Russia) - guitar. Project was formed in 2006 in New York and is resumed every time when ist musicians get together at some spot on Earth. Noise ambient with free improv elements.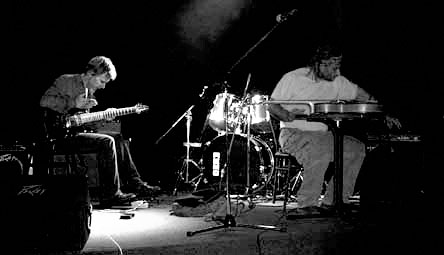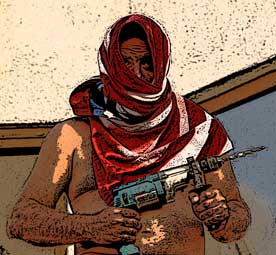 A.Pljusnin and P.Mikheev duo. They will present program named "Farouk Engineer" - Muslimgauze tribute played on live instruments.
http://www.myspace.com/dwaspb
Schedule:
September 17-19 (Music Weekend Festival "Autumn ball in Rajvola", Rajvola hotel, Len.obl., Vyborg district, Roschino village, Pesochnaja st. 1)
September 23 (Griboedov Club , SPb, Voronezskaja ul. 2À)
September 24 (TIR Club, Pskov, Sverdlova 52)
September 25 (TIR Club, Pskov, Sverdlova 52)
September 30 (APOSITION festival, SPb, Manege Small Hall, Griboedova emb.103)
October 1 (APOSITION festival, SPb, Manege Small Hall, Griboedova emb.103)
October 2 (APOSITION festival, SPb, Manege Small Hall, Griboedova emb.103)
October 2 (APOSITION festival, SPb, ESG-21, Ligovsky pr.53, Museum annex, 3rd floor)
October 3 (APOSITION festival, SPb, Manege Small Hall, Griboedova emb.103)
October 4 (APOSITION festival, SPb, ESG-21, Ligovsky pr.53, Museum annex, 3rd floor)
October 6 (APOSITION festival, SPb, Chinese Pilot Jao Da club, Pestela st. 7)
October 7 (APOSITION festival, SPb, Chinese Pilot Jao Da club, Pestela st. 7)
October 8 (Moscow, DOM club, Bol.Ovchinnikovskij per., 24, building 4)
October 9 (Moscow, "Bells of the World" festival, Club Vozduh (ex Dub Club) Susalny Nizh. per. 7 bld.7)
October 12 (Moscow, Project OGI, Potapovskij per., 8/12, bld. 2)
October 13 (Moscow, Fabrika Project, "Autonomy of Synthesis" festival)
---
| ÈÍÔÎÐÌÀÖÈß | ÍÎÂÎÑÒÈ | INFORMATION | NEWS |